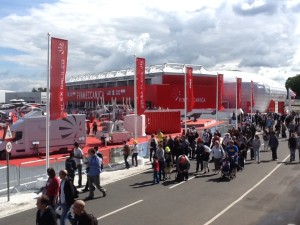 Farnborough Airshow is one of the oldest and biggest trade and public aviation shows in the world.
The build takes nearly five months to complete and the show lasts  a week with flight displays of both modern aircraft, military and civilian and show stoppers such as the Vulcan, Red Arrows and Battle of Britain flight.
As part of a team we were drafted in to oversee general Health and Safety on the site during the build, show and the breakdown. Including construction processes, gas and water safety and crowd dynamics.
All of the approval processes for the chalet designs were dealt with prior to the contractors arriving onsite.